2022-2023 Events
Events for the Public Humanities Graduate Research Workshop will be posted to this page as they are scheduled! Events will also be posted on PlanitPurple, Northwestern's event feed. Please check back often!
Arts and Humanities Funding Workshop
Friday, February 10, 2023


12:00-1:00 pm CST
Free! Open to Northwestern PhD, MA, and MFA students in all arts and humanities disciplines
Do you need funding for your research, a public event, or a creative endeavor? In this workshop, Stephen Hill (Office of Fellowships) and Trish Bredar (Kaplan Humanities Institute) will provide advice on how to identify and apply for competitive funding opportunities. We will cover award search resources, fundamentals of proposal writing, and special considerations for creative and/or public-facing work.
---
1/10/23: Due to unforeseen circumstances, this event is cancelled. But stay tuned! It will be rescheduled!
The PhD of the Future: Humanities Scholarship Beyond Boundaries
Dr. Teresa Mangum in conversation with Dr. Kelly Wisecup
As juggling multiple crises increasingly feels like the new normal in many humanities fields, how are graduate students, faculty, and partners beyond the academy transforming what it means to be a successful scholar? What might the future of humanities scholarship look like, and at what point in the transition are we now? In this hybrid event, Dr. Teresa Mangum (University of Iowa) will join Dr. Kelly Wisecup (Northwestern) in conversation about new directions in graduate education, career paths, and publicly-engaged scholarship. This event is free and open to the public—we welcome graduate students, faculty, administrators, and anyone with an interest in the future of humanities scholarship to join us.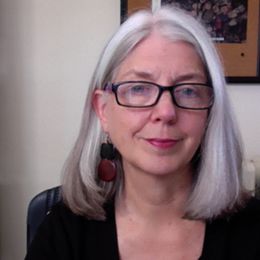 Dr. Teresa Mangum is a professor in the departments of Gender, Women's, and Sexuality Studies and English and director of the Obermann Center for Advanced Studies at the University of Iowa. She began her career working on rebellious women, ageism, and surprising human-animal relationships in 19th-century British art and literature. More recently, she has been asking how humanities scholarship and practice might intervene in profound social challenges from social inequities to climate change and how graduate studies in the humanities can prepare future generations for those responsibilities. She is currently directing a multi-year Mellon Grant focused on "Humanities for the Public Good": an interdisciplinary team of faculty, staff, graduate students, and community partners is designing an "applied" humanities graduate certificate and MA degree. Mangum serves on the Advisory Board of the Consortium of Humanities Centers and Institutes and the Public Humanities Network within CHCI and is chair of the planning committee for the October 2023 National Humanities Conference, a collaboration of the National Humanities Alliance and the Federation of State Humanities Councils.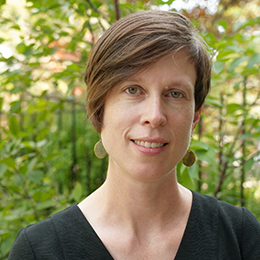 Dr. Kelly Wisecup is a professor in the Department of English, Interim Director of the Kaplan Institute for the Humanities, and affiliate faculty at the Center for Native American and Indigenous Research. She coordinates several collaborative public humanities projects at the intersections of archives, rivers, cities, and Indigenous literatures, including most recently a Humanities without Walls funded project on the Indigenous Mississippi River and a digital archive of Chicago's Indigenous literatures and arts, Archive Chicago.

---
The Ethics of Community-Engaged Work
Friday, December 2, 2022
12:00-1:00 pm CST
Via Zoom (registration required): bit.ly/EthicsCmtyWork
Free. Public welcome!
Research that engages with communities beyond the academy often involves serious ethical considerations on both a theoretical and practical level. How can scholars in the humanities and humanistic social sciences create meaningful, mutually beneficial community partnerships? How should ethical considerations inform research aims and outcomes? How can those within the academy manage competing institutional expectations and timelines? This free, virtual event will bring together three panelists from leading public humanities initiatives to share their perspectives on the topic of ethical community-engaged work. Moderated by Ruth Curry of Northwestern's Center for Civic Engagement, this discussion will offer diverse perspectives and strategies useful to anyone who is exploring or pursuing community-engaged work.

Panelists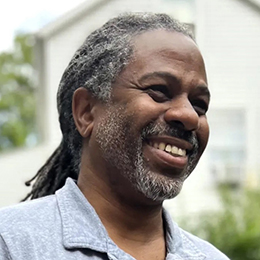 Morris (Dino) Robinson, Jr. is the Production Manager at Northwestern University Press. Previously, he served in creative positions in advertising, and later operated Robinson Design. He holds a BA degree in Communication Design and a minor in African American Studies. Dino is the founder of Shorefront Legacy Center, an organization he pioneered in 1995. Within Shorefront, he has authored books, facilitated subject specific speaking engagements and exhibits, and consults on community-based archiving and organizing programs. Throughout the last 20 years, Dino built a collection measuring over 500 linear feet, representing the local Black communities on Chicago's suburban North Shore.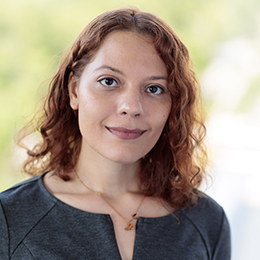 Dr. Mónica Félix is the Executive Director of the Chicago Cultural Alliance (CCA), a consortium of over 40 Chicago-area cultural heritage museums, institutes, and historical societies representing over 30 different cultures. Dr. Felix's previous nonprofit leadership experience includes serving as the first Chief Administrative Officer of the American Comparative Literature Association (ACLA, 2019-2021). She also served as the Museum & Development Director of the DANK Haus German American Cultural Center in Chicago's Lincoln Square (2017-2019) where she oversaw exhibit curation, development, and cross-cultural programming. She received her PhD in Comparative Literature (Russian/German) from the University of Chicago in 2017.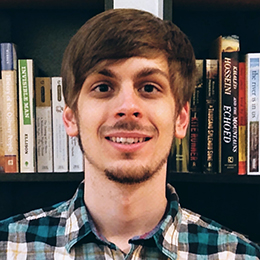 Dr. Bradley Dubos is the current Public Humanities Fellow at the New-York Historical Society, where he is at work on a traveling exhibit and educational initiative titled Acts of Faith: Religion and the American West. Brad recently completed his PhD in English at Northwestern University. His research and teaching focus on pre-1900 American literatures, religions, and placemaking, particularly through the works of Native American and African American poets. In Chicago, he also contributed to a public humanities project aimed at improving tribal communities' access to collections at the Newberry Library.

Moderator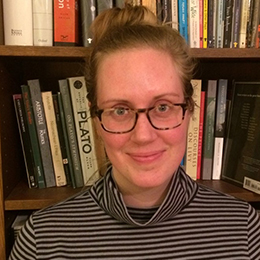 Dr. Ruth Curry is a postdoctoral scholar at Northwestern's Center for Civic Engagement, where she directs the Center's programming for graduate students. She has launched a number of initiatives to support public scholarship and to connect students with the local community, including a practicum program for humanities PhDs, a public writing workshop, and a graduate assistantship to support Chicago-area Black archives.
Back to top