Artist in Residence Program
The Kaplan Humanities Institute is proud to recognize and financially support working artists across the visual, performing, and literary arts. See bottom of this page for more details about the program.
spring 2021
Mel Keiser

In residence May - June 2021
Keiser's residency is co-sponsored by the Department of Art Theory and Practice and the Kaplan Humanities Institute.
For Gravedigging Practicum on May 15, see below for details.
Mel Keiser (b.1985, 2003, 2007, 2007, 2011, 2014, 2018, 2020) is a multidisciplinary artist exploring the social and psychological impact of treating herself as a stratified series of distinct selves rather than a single person in fluid development. Her practice blends installation, object-making, and performance with research methodologies and knowledge hybridized from disciplines like evolutionary biology, sociocultural anthropology, and personality psychology. Her work appropriates taxonomic structures from natural history and academia to disrupt her "familiarity to her subject matter," only to exploit the same familiarity through the appropriation of social rituals and customs, intimate and vulnerable.
Keiser received grants from the City of Chicago Department of Cultural Affairs and Special Events, Center for Interdisciplinary Research in the Arts at Northwestern University, and the Judith Dawn Memorial Fund. She co-directed and starred in The Life and Deaths of The Mels, a short film with Diego Ongaro (2019), and her written work has been published in the peer-reviewed Performance Philosophy Journal (2018) and ASAP/J (forthcoming). She co-lead an artist writing group at Wedge Projects with Matthew Goulish from 2017-2019.
About The Life and Deaths of The Mels: Here Lie the Bones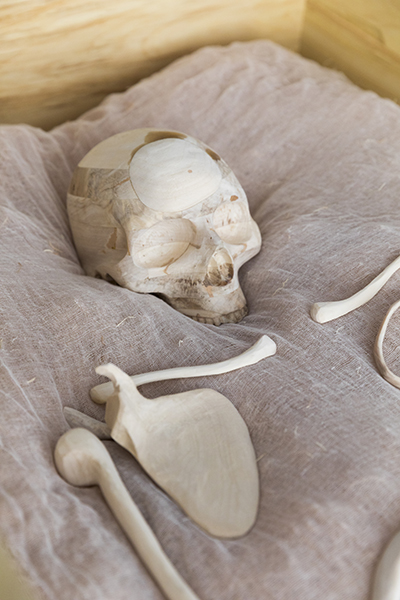 Keiser rewrites her personal history as the births and deaths of a linear progression of discrete selves. This project builds evidence that these selves exist: she makes a body for each self and buries it in a cemetery. 
Entangling the borders of reality and fiction, this project is a journey to understand self-death. Keiser collaborates with experts to prepare a funeral for her first self. Modeled from 3D scans of her body, they hand-carve disarticulated bones as a surrogate body for burial. Concurrently, a gravestone is hewn by a stone carver trained to be a priest; a casket is hand-built from a tree that clones itself; and mourning clothes are tailored from the clothes of the living and deceased selves. With these objects, Keiser will hold a public funeral, burying the bodies of these past selves, incorporating a small plot of land in Illinois as a family cemetery, creating a public art site.
About Melga Blank & the Museum of The Mels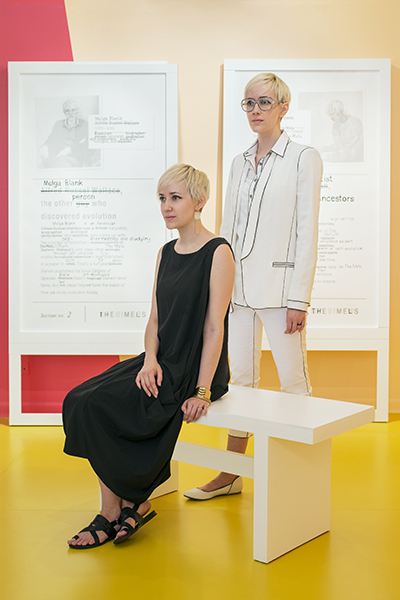 Keiser also performs, writes, and curates as alter-ego, scientist Melga Blank. Keiser uses Blank to explain why and how Keiser is a series of discrete selves rather than a single person in fluid development.
In Keiser's work, Blank founded the field of self-evolutionary biology when she discovered The Mels (Keiser), the first known species to evolve as psychically discrete selves in a single physical body. To share her discovery with the public, she became the head curator of the Museum of The Mels, a natural-history-museum-like institution dedicated to The Mels and self-evolution. Through collecting, cataloging, and analyzing, Melga Blank and her museum are an interface between real scientific inquiry; the fictional evolution of The Mels; and Keiser's quixotic, obsessive self-determination.
Residency Highlights
A Practicum for Digging a Grave with Mel Keiser
This will be a live, in-person event
Sat., May 15, 2021
9:00 am to 2:00 pm
Location: Behind 618 Colfax Street, Evanston

Facebook event: https://bit.ly/33wDRR6
PlanitPurple event: https://planitpurple.northwestern.edu/event/575536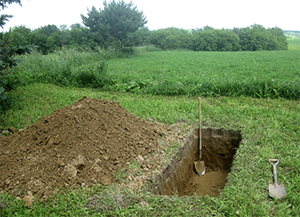 Led by Kaplan Humanities Institute Artist in Residence Mel Keiser and certified grave diggers Kris Bloedow and Bill Jessen, participants will learn the increasingly forgotten but age-old skill of manually digging a grave. We will reflect on the ability of this labor to simultaneously inter the deceased, mirror the process of grieving, and direct emotion into social action.
Entangling the borders of reality and fiction, Keiser's multidisciplinary work explores the social and psychological impact of treating herself not as one single person but a series of distinct self-versions. Claiming these self-versions born and died—in 2003, twice in 2007, 2011, 2014, 2018, and 2020—Keiser is currently making a body for each of her selves and burying them in a cemetery.
Dig site
We will dig behind 618 Colfax, Evanston, which is the site of an unoccupied residential hall. There is street parking and a parking lot nearby at Elder Hall (see this map: https://maps.northwestern.edu/facility/258).
Participants must wear masks and adhere to campus visitor COVID safety protocols.
This event is co-presented by the Department of Art History, the Department of Art Theory and Practice, and the Alice Kaplan Institute for the Humanities.
In Studio
Keiser will be working in the Kaplan artist studio in Kresge #2315 during spring quarter 2021 beginning May 1. In the meantime, you can view a short video of her work in the studio window.
______________________________________________________________________________________
About the Artist in ResidencE Program
The Kaplan Institute's Artist in Residence Program brings internationally acclaimed artists to campus for quarter-long residencies. The program seeks to facilitate production of new work and to provide insight into the process of conceptualizing and producing creative work.
Since 2008, the Kaplan Institute has hosted more than 30 innovative and award-winning artists working in diverse media. The Institute situates the artist within a scholarly interdisciplinary community where they share their practice with the broader Northwestern community through screenings, exhibitions, lectures, concerts, readings, or performances.
A department or program at Northwestern must nominate and cosponsor an artist for residency. The program provides a stipend, production budget, and housing, and artists are expected to have substantial interaction with students over the course of the residency, through teaching appointments, short-term seminars, and open studios, and public events. (Click here for the Artist in Residence application page.)
In the past, the Kaplan Institute has collaborated with the departments of Art Theory and Practice, Art History, History, Latina/o Studies, Radio/Television/Film, Asian American Studies, the Segal Institute, Global Humanities Initiative, Global Languages Initiative, Residential Colleges, the Block Museum of Art, and the Northwestern Libraries.
Back to top