Artist in Residence Program
The Kaplan Humanities Institute is proud to recognize and financially support working artists across the visual, performing, and literary arts. See bottom of this page for more details about the program. 
SPRING 2022
vartan avakian

In residence May - June 2022
Vartan's residency is co-sponsored by the Middle East and North African Studies Program (MENA) and the Kaplan Humanities Institute.
Vartan will present a two public events during his residency. See below for more details on these:
May 9, 2022 — Archives Without Documents - Part of the MENA Conversation series
May 25, 2022 — Public talk at the Block Museum of Art
Vartan Avakian is an artist working with video, photography and sculpture. He studied Communication Arts at the Lebanese American University and Architecture and Urban Culture at the Universitat Politècnica de Catalunya and Centre de Cultura Contemporània de Barcelona. Avakian's work has been shown at MuCEM, Marseille; Sursock Museum, Beirut; Apexart, New York; Künstlerhaus Bethanien, Berlin; MAXXI, Rome; SAVVY Contemporary, Berlin; Beirut Art Center, CCA Warsaw; Mori Art Museum, Tokyo; Transmediale 2K+12, Berlin; Sharjah Biennial X, Sharjah; Home Works V, Beirut; Pratt Manhattan Gallery, New York; The Cube, Taipei; South London Gallery, London. Avakian is a board member of the Arab Image Foundation and is a recipient of the Abraaj Group Art Prize. He is represented by Kalfayan Galleries, Athens-Thessaloniki and Marfa' Projects, Beirut.

You can view Vartan's artwork at www.vartanavakian.com.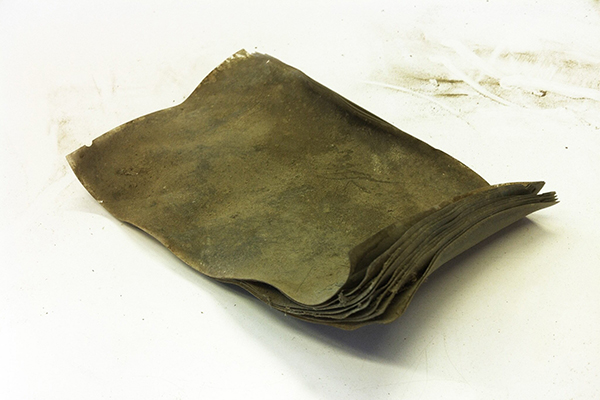 (Image above from Suspended Silver (2015): Accumulated dust on film negatives from Studio Mario collection found in Barakat Building. Image Courtesy of Arab Image Foundation)

In Studio
Vartan will be working on a film project in the Kaplan artist studio in Kresge #2315 during his residency.
Events
Monday, May 9, 2022
12:30 pm CST
Via Zoom
Register here:
A

conversation about archives and documents, or their absence, in relation to histories of violence and the material world in the MENA region. With

artist Vartan Avakian, anthropologist Yael Navaro (Cambridge University), and literary theorist Gil Hochberg (Columbia University), moderated by anthropologist Anoush Suni (Northwestern).
Artist Talk

Wednesday, May 25, 2022
5:30 pm CST
Block Museum of Art (40 Arts Circle Drive, Evanston)
Free and open to all!
"This is the story of a judicial investigator, a biochemist, and a salamander. They stand centuries apart each staring at a trace." 
Spring 2022 Course
With visiting practitioners Kristine Khoury and Yasmine Eid-Sabbagh from the Arab Image Foundation, Vartan is teaching the Humanities/MENA course (Im)material Layers in Archives: Affect, Landscapes, and Photographic Agency. The seminar will investigate the ways in which archives can function as a space for renegotiating the agency of photographs and their (im)material layers, and how these processes can allow for rethinking archival practices in complex political, economic, and social contexts today.
______________________________________________________________________________________
About the Artist in ResidencE Program
The Kaplan Institute's Artist in Residence Program brings internationally acclaimed artists to campus for quarter-long residencies. The program seeks to facilitate production of new work and to provide insight into the process of conceptualizing and producing creative work.
Since 2008, the Kaplan Institute has hosted more than 30 innovative and award-winning artists working in diverse media. The Institute situates the artist within a scholarly interdisciplinary community where they share their practice with the broader Northwestern community through screenings, exhibitions, lectures, concerts, readings, or performances.
A department or program at Northwestern must nominate and cosponsor an artist for residency. The program provides a stipend, production budget, and housing, and artists are expected to have substantial interaction with students over the course of the residency, through teaching appointments, short-term seminars, and open studios, and public events. (Click here for the Artist in Residence application page.)
In the past, the Kaplan Institute has collaborated with the departments of Art Theory and Practice, Art History, History, Latina/o Studies, Radio/Television/Film, Asian American Studies, the Segal Institute, Global Humanities Initiative, Global Languages Initiative, Residential Colleges, the Block Museum of Art, and the Northwestern Libraries.
Back to top