Artist in Residence Program
The Kaplan Humanities Institute is proud to recognize and financially support working artists across the visual, performing, and literary arts. See bottom of this page for more details about the program. 
Winter 2023
Sarah Kanouse

In residence February 6-10, 2023
Kanouse's residency is co-sponsored by the Department of Art History and the Kaplan Humanities Institute.
Residency Highlights:
Kanouse will perform My Electric Genealogy on Tuesday, February 7, 2023 (6:00 pm). Tickets are free; details below.

Kanouse will engage with graduate students and also interact with Professor Rebecca Zorach's undergraduate  seminar, Art, Ecology, Politics (ART HISTORY 390-0 / HUMANITIES 370-6 / ENVIRONMENTAL POLICY AND CULTURE 390-0).
Sarah Kanouse is an interdisciplinary artist and critical writer examining the politics of landscape and space. Migrating between video, photography, and performative forms, her research-based creative projects shift the visual dimension of the landscape to allow hidden stories of environmental and social transformation to emerge.

A habitual collaborator, Sarah Kanouse recently worked with Ryan Griffis and Nicholas Brown, on the the Anthropocene Drift field station for Mississippi: An Anthropocene River, sponsored by the Haus der Kulturen der Welt and the Max Planck Institute for the History of Science. She was one half of the National Toxic Land/Labor Conservation Service, a 'wishful' government agency addressing the cultural and ecological impacts of nuclear militarism, and a core member of Compass, an art collaborative best known for staging a series of performative hearings into the intergenerational and inter-species impacts of industrial agriculture on regional and global eco-social systems.  With Nicholas Brown, she explored landscapes of settler commemoration in the Midwest in the photo-text book Re-Collecting Black Hawk (University of Pittsburgh Press, 2015).

Her creative work has been screened or exhibited at Documenta 13, the Haus der Kulturen der Welt, the Museum of Contemporary Art Chicago, the Cooper Union, the Clark Art Institute, the Smart Museum, the Museum of Contemporary Art Detroit, and in numerous academic institutions as Tufts University, the CUNY Graduate Center, George Mason University, University of California Berkeley, Colorado College, and the University of Wisconsin. She has written extensively about performative and site-based contemporary art practices in the journals Passapartout, Acme, Leonardo, Parallax, and Art Journal, as well the edited volumes Ecologies, Agents, Terrains; Critical Landscapes, Art Against the Law, and Mapping Environmental Issues in the City.

A 2019-2020 Rachel Carson Fellow at Ludwig Maximilian University of Munich, Sarah Kanouse holds a permanent position as Associate Professor in the Department of Art + Design at Northeastern University.
MY ELECTRIC GENEALOGY
Tickets (FREE): https://www.eventbrite.com/e/my-electric-genealogy-sarah-kanouse-tickets-504801202987
Tues., February 7, 2023
6:00 pm
Mussetter-Struble Theater/ Wirtz Center for the Performing Arts
1949 Campus Drive, Evanston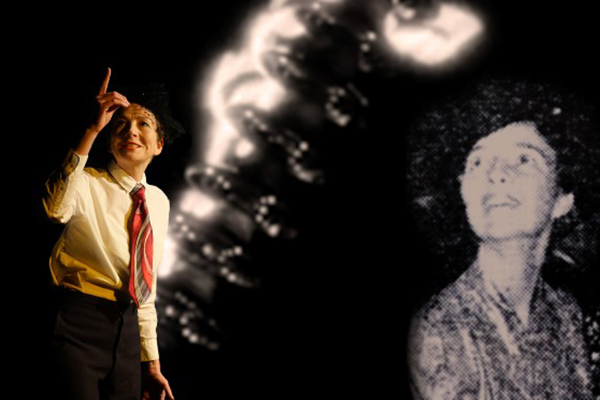 (Sarah Kanouse, still from My Electric Genealogy.)
My Electric Genealogy is a 75-minute, auto-ethnographic lecture-performance that weaves together live narration, choreographed movement, documentary video, and sound to address the climate justice ramifications of the electrical grid my grandfather helped to design and build.
"For nearly forty years, Ed Kanouse designed, planned, and supervised the spider-vein network of lines connecting Los Angeles to its distant sources of electric power. He made a second family of the grid and its substations, converter stations, and interties, photographing these monuments of the modern everyday with one foot in the aesthetic and another in the techno-scientific sublime. When he died, he left behind boxes of snapshots that mixed birthday parties and family Christmases with portraits of power plants and transmission towers. Years later, I learned his legacy also included some of the most polluting fossil fuel infrastructure in the country—mostly located on Navajo land. Both aesthetically and politically, then, his vision of progress was rooted in modernist models of extraction, centralization, and consumption that are both highly racialized and gendered. Any just transition to a post-carbon society demands not only an overhaul of the electric grid but also the underlying values and assumptions that produced it. Taking up Donna Haraway's call to "make oddkin," My Electric Genealogy proceeds from an imaginative re-reading of my family tree, refiguring as relations both the electrical infrastructure of Los Angeles and the desert ecologies, organisms, and human histories it connects. Weaving together episodes of my grandfather's life, anxious fantasies about my child's climate-challenged future, and stories of resistance and resilience from the front lines of centuries of extractivism, My Electric Genealogy is an essayistic, auto-ethnographic working-through of this personal and collective inheritance."
Fall 2022 - Visiting artist
Doreen Baingana

Visiting Artist, November 2022
Co-presented by the Program of African Studies, the Creative Writing Program, and the Kaplan Humanities Institute.

November 1, 2022 (5:00-6:30pm) - Doreen will present a reading and Q&A in conversation with storyteller Wana Udobang. Click here for details!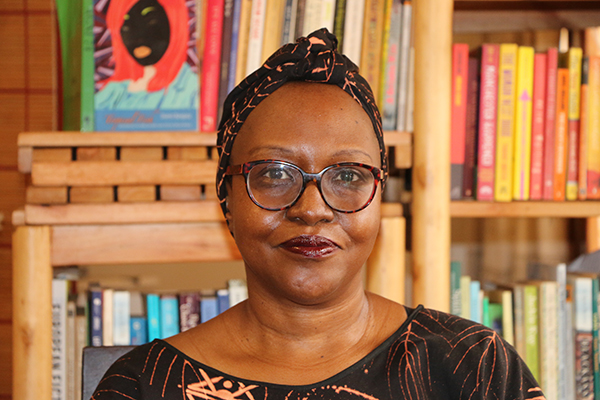 (Doreen Baingana photo by Jérémy Baron)
Doreen Baingana is a Ugandan writer whose short story collection, 
Tropical Fish
, won a Grace Paley Prize for Short Fiction and a Commonwealth Prize. Her other awards include three nominations for the Caine Prize; a Miles
 Morland
 Scholarship; a Rockefeller Bellagio Residency; a Sustainable Arts Foundation grant; a Tebere Arts Foundation Playwright's Residency, and a Gretchen J. Bryant Freedom to Write Distinguished Fellowship. She has also published two children's books as well as stories and essays in many journals including Agni, Callaloo, Chelsea, Glimmer Train, The Guardian, UK, Caravan: A Journal of Politics and Culture (India), Chimurenga, Kwani?, Ibua, Evergreen Review, Transition, and The Georgia Review. She is about to complete a novel-in-progress, Tongues of Fire, based on the life of a charismatic female rebel leader, 
Alice Lakwena
.
Baingana has adapted her stories for the stage that have been performed in Uganda and Germany. She has
an MFA from the University of Maryland, College Park and worked at Voice of America radio for ten years before she became managing editor at Storymoja Africa, a Kenyan press, and later chairperson of FEMRITE, the Uganda Women Writers Association. Based in Entebbe, she has taught creative writing across Africa for two decades.
______________________________________________________________________________________
About the Artist in ResidencE Program
The Kaplan Institute's Artist in Residence Program brings internationally acclaimed artists to campus for quarter-long residencies. The program seeks to facilitate production of new work and to provide insight into the process of conceptualizing and producing creative work.
Since 2008, the Kaplan Institute has hosted more than 30 innovative and award-winning artists working in diverse media. The Institute situates the artist within a scholarly interdisciplinary community where they share their practice with the broader Northwestern community through screenings, exhibitions, lectures, concerts, readings, or performances.
A department or program at Northwestern must nominate and cosponsor an artist for residency. The program provides a stipend, production budget, and housing, and artists are expected to have substantial interaction with students over the course of the residency, through teaching appointments, short-term seminars, and open studios, and public events. (Click here for the Artist in Residence application page.)
In the past, the Kaplan Institute has collaborated with the departments of Art Theory and Practice, Art History, History, Latina/o Studies, Radio/Television/Film, Asian American Studies, the Segal Institute, Global Humanities Initiative, Global Languages Initiative, Residential Colleges, the Block Museum of Art, and the Northwestern Libraries.
Back to top