Artist in Residence Program
The Kaplan Humanities Institute is proud to recognize and financially support working artists across the visual, performing, and literary arts. See bottom of this page for more details about the program.
winter 2020
M. Carmen Lane

In residence February 13-26, 2020
Lane's residency is co-sponsored by the Department of Art Theory and Practice and the Kaplan Humanities Institute.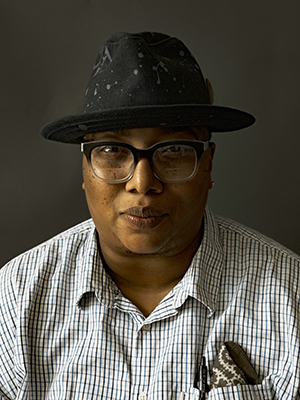 M. Carmen Lane is a two:spirit African-American and Haudenosaunee (Mohawk/Tuscarora) artist, writer, and facilitator living in Cleveland, Ohio. Lane's work ranges from experiential educator to diversity practitioner to organizational systems consultant to experimental artist—all of it integrates ancestry, legacy, and spirituality; pursues expansion, experimentation, and play. Lane is founder and director of ATNSC: Center for Healing & Creative Leadership, an urban retreat center and social practice experiment in holistic health, leadership development, Indigenous arts and culture and the Akhsótha Gallery located in the historic Buckeye-Shaker neighborhood. Lane's work has been published in numerous journals and anthologies including the Yellow Medicine Review, Red Ink Magazine, Anomaly, and the Lambda Literary Award-nominated Sovereign Erotics: A Collection of Two Spirit Literatures. Lane's first collection of poetry is Calling Out After Slaughter (2015). Lane has exhibited work during the FRONT 2018 triennial group show by Michael Rakowitz, A Color Removed at SPACES Gallery, and at EFA Project Space's Spring 2019 exhibition In The Presence of Absence.

Lane attended Earlham College receiving their BA in Women's Studies with a focus in feminist art history, theory, and criticism and later earned their MS in Organization Development and Change from American University. Lane was a recipient of both the AU/NTL Segal-Seashore Fellowship and Hal Kellner Award. Lane is an Amanda Fouther scholar/member of NTL Institute for Applied Behavioral Science and Wordcraft Circle of Native Writers and Storytellers. Lane was a 2018 Creative Fusion artist-in-residence and recipient of the 2019 Room In The House artist residency at the historic Karamu theatre. Lane is a 2020 recipient of the Joyce Awards.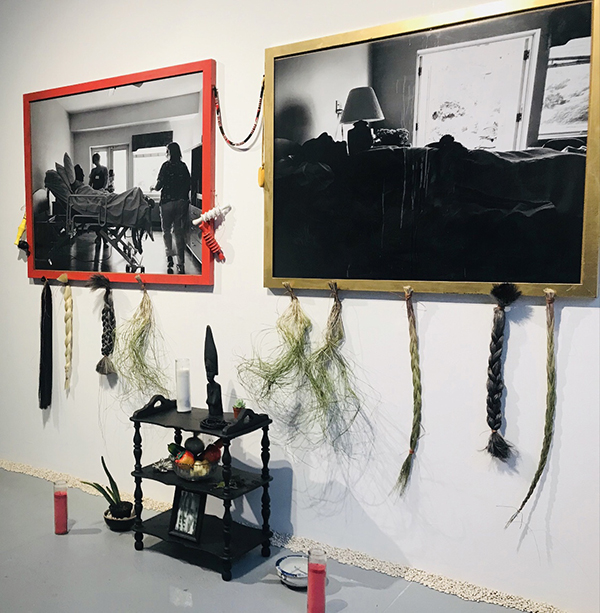 (Image: M. Carmen Lane, Akhsó (Grandma): This Is A New Experience, 2019 & Skin Hunger/The Artist As Caregiver, 2019)
Residency Highlights
Lane will engage with Professor Michael Rakowitz's class, Memory and the Monument, offered in Art Theory and Practice. They will lead workshops that focus on concerns of mourning, grief, steadfastness, and materiality, considering questions of uncomfortable memory and resistance to amnesia in the context of Indigeneity. Lane and Rakowitz will also hold a public conversation at the Block Museum of Art that explores their work together, the moments of intersection between their projects, and what it means to have a lived practice that resists forgetting.
Free Public Event
February 18, 2020
5:00 pm
Block Museum of Art
February 18, 2020 marks posthumously the 86th birthday of Audre Lorde and the 89th birthday of Toni Morrison (the first since her death in August 2019). M. Carmen Lane and Michael Rakowitz will engage in a public talk on ancestry, place, dispossession, and the steadfastness of survival. Using textual prompts from both Lorde and Morrison, the artists continue a dialogue between each other that began half a decade ago and which has impacted both of their practices—involving grief as both a material and a process that resists disconnection.
This talk is part of the Kaplan Institute's 2019-2020 Memorializing Dialogue, a year-long public conversation about commemorating, contesting, and claiming from humanistic perspectives.
______________________________________________________________________________________
About the Artist in ResidencE Program
The Kaplan Institute's Artist in Residence Program brings internationally acclaimed artists to campus for quarter-long residencies. The program seeks to facilitate production of new work and to provide insight into the process of conceptualizing and producing creative work.
Since 2008, the Kaplan Institute has hosted more than 30 innovative and award-winning artists working in diverse media. The Institute situates the artist within a scholarly interdisciplinary community where they share their practice with the broader Northwestern community through screenings, exhibitions, lectures, concerts, readings, or performances.
A department or program at Northwestern must nominate and cosponsor an artist for residency. The program provides a stipend, production budget, and housing, and artists are expected to have substantial interaction with students over the course of the residency, through teaching appointments, short-term seminars, and open studios, and public events. (Click here for the Artist in Residence application page.)
In the past, the Kaplan Institute has collaborated with the departments of Art Theory and Practice, Art History, History, Latina/o Studies, Radio/Television/Film, Asian American Studies, the Segal Institute, Global Humanities Initiative, Global Languages Initiative, Residential Colleges, the Block Museum of Art, and the Northwestern Libraries.
Back to top