Note from the Director, 2022-2023
I am excited to step in as the 2022-23 interim director of the Alice Kaplan Institute for the Humanities. This year's theme, ENERGIES, convenes lectures, classes, and performances that will scrutinize the roots and contemporary manifestations of energy crises as well as our personal and collective energies in contexts that include global pandemics, late capitalism, and climate change. These events foster collaborative, interdisciplinary humanities conversations, scholarship, and pedagogies that critically assess and answer the pressing questions elicited by ENERGIES. 
The Humanities Council for 2020-22, along with director Jessica Winegar, selected this theme to create a year-long dialogue among distinguished scholars, artists, and activists speaking on questions of academic labor, environmental racism and environmental activism, climate change, infrastructure, and more. Our fall keynote features scholars of Asian Studies and Asian American Studies Tina Chen and Nitasha Sharma, in conversation on reimagining forms of academic labor. Winter brings activist-scholars Dallas Goldtooth (Mdewakanton Dakota & Diné) and Nick Estes (Lower Brule Sioux Tribe) to campus to discuss Indigenous environmental activism, pipelines, and forms of collective energy that build alternative futures. Spring features a conversation between artist Torkwase Dyson and performance studies scholar D. Soyini Madison, on environmental racism, performance, and spatial architectures. I enthusiastically invite you to these keynotes, as well as to the exciting lineup of conversations, lectures, readings, performances, exhibits, and more that we are co-sponsoring across campus. 
In addition to these events, Kaplan fosters the interdisciplinary, cutting-edge humanities of Northwestern's faculty and students. I am delighted to welcome a new cohort of Faculty Fellows and Franke Fellows, both graduate and undergraduate. The fellows meet regularly across the year for scholarly exchanges about works in progress, mentoring conversations, and pedagogy workshops. We also welcome two new Postdoctoral Fellows to Kaplan: Chandana Anusha (ACLS Emerging Voices Fellow/Anthropology) works in environmental studies and Trish Bredar (Postdoctoral Fellow in Public Humanities/English) works in nineteenth-century literary studies. I am grateful to the new members of the Humanities Council, for sharing their expertise with the Institute, and I'm excited to welcome new Kaplan Faculty member Corey Byrnes.
In fall 2022, we welcome a new cohort of first-year undergraduates as Kaplan Scholars to Northwestern and to the Institute. Students in the Kaplan Humanities Scholars Program take a distinctive, interdisciplinary seminar co-taught by distinguished scholar-teachers. This fall's course offerings in Islands (with Professors Daniel Immerwahr and Jules Law) and Revolutions: Visualizing Radicalism (Moscow, Madrid, Mexico) (with Professors Miguel Caballero and Nina Gurianova) promise exciting classroom discussions and opportunities to engage with humanities institutions in Chicago and throughout the Midwest. Dr. Alejandra Uslenghi (Spanish and Portuguese) joins us as the faculty coordinator for Kaplan Scholars this year.
We continue to support programs for teaching in prisons, and are delighted to renew our public lecture contributions to the Chicago Humanities Festival.
I invite you to join us at the hub for humanities scholarship, exchange, and mentoring that is Kaplan, and I look forward to seeing you at this year's ENERGIES Dialogue events.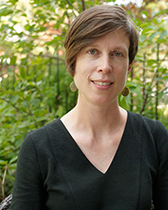 Kelly Wisecup
Interim Director, 2022-23, Alice Kaplan Institute for the Humanities
Professor of English, Northwestern University
Faculty Affiliate, Center for Native American and Indigenous Research, Northwestern University
Executive Coordinator, Society of Early Americanists