Prison Education Initiatives
The Kaplan Humanities Institute has a history of partnership and collaboration with several prison education programs within and outside of Northwestern. Many Kaplan faculty and Franke Fellows have taught in these programs and helped to provide planning and leadership for the initiatives. The Institute also co-presents public programming with program organizers. While some aspects of these projects are not fully available this year due to COVID-19, we look forward to future engagement with these crucial endeavors.
Northwestern Prison Education Program

https://sites.northwestern.edu/npep/
The Northwestern Prison Education Program (NPEP) is an initiative of Northwestern University to provide a high-quality liberal arts education to incarcerated students in Illinois in partnership with Oakton Community College and the Illinois Department of Corrections. NPEP fills a vital need in Illinois by being the only degree-granting program in the state providing a full liberal arts curriculum—humanities, fine arts, social sciences, and STEM courses—to incarcerated students. NPEP is also the only postsecondary prison education program in Illinois that accepts applications from facilities throughout the state, including from medium- and maximum-security prisons. This enables NPEP to have statewide impact and to reach students at various stages of their incarceration, allowing the liberal arts degrees that are conferred to prepare students for success across a broad range of future pursuits.

In addition to expanding access to college-level courses for a systematically disadvantaged population, this initiative strives to enhance Northwestern's academic mission by fostering a dynamic and diverse intellectual community extending beyond the university's campuses. By providing undergraduate, graduate, and professional students and faculty at Northwestern and Oakton with opportunities to teach and learn alongside incarcerated students, NPEP is giving the next generation of citizens, lawyers, and scholars the tools to confront the grave problems that plague our nation's criminal justice system.
Hear directly from NPEP students in Stateville Correctional Center: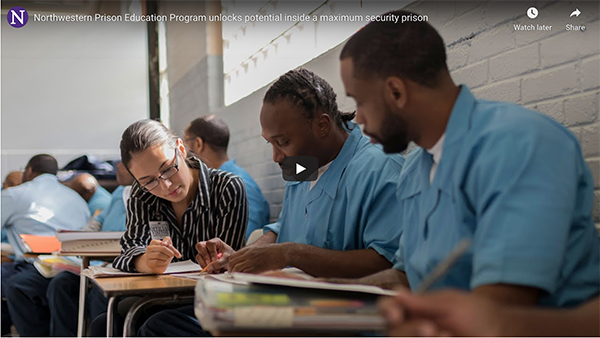 Prison + Neighborhood Art Project

Prison + Neighborhood Arts/Education Project (PNAP) is a visual arts and education project that connects teaching artists and scholars to incarcerated students at Stateville Maximum Security Prison through classes, workshops, a policy think tank, and guest lectures. Classes cover subjects ranging from poetry, visual arts, and creative writing to political theory, social studies, and history. PNAP also offers a tuition-free degree-granting program at Stateville in partnership with the University Without Walls at Northeastern Illinois University. These classes serve as an opportunity for students to connect with artists, scholars, and writers from the region; expand their cultural and political education; and communicate complex ideas. PNAP courses develop projects—visual art, creative writing, and critical essays—which are the basis for exhibitions, events, and publications that are shared both within and across the walls of the prison.