Events - CARE Dialogue
Spring Quarter 2022
Keynote
Rethinking Forms and Possibilities of Carework
Alexis Pauline Gumbs in conversation with Leah Lakshmi Piepzna-Samarasinha, with moderator Patricia Nguyen
May 18, 2022
12:00 pm CST
Via Zoom—registration required: https://bit.ly/CareKeynote

ASL interpreting and live captioning will be included in this event.
Renowned poet, activist, and Queer Black feminist scholar Alexis Pauline Gumbs will be in conversation with disability and transformative justice movement worker, theorist, and author Leah Lakshmi Piepzna-Samarasinha on rethinking the forms and possibilities of care and carework. As the pandemic continues alongside the onslaught of state sanctioned violence internationally and locally from war to policing to divestment from public housing, health, and education, the bodily impacts of exhaustion, grief, and mental health issues mount, especially on the bodies of sick and disabled queer Indigenous, Black, and people of color. This conversation is a moment to pause, reflect, and explore modes of worldmaking that allow us to cultivate more liberatory futures.
The dialogue will be moderated by Patricia Nguyen, Northwestern Assistant Professor in Asian American Studies, Performance Studies, and Council for Race and Ethnic Studies.
This keynote will serve as a capstone to the ongoing conversations this year that have been initiated by Northwestern faculty and graduates on the theme of CARE.
Co-presented by the Northwestern Women's Center, the Colloquium on Ethnicity and Diaspora, and the Kaplan Humanities Institute.

Becoming Mermaid
Virtual Performance and Discussion with Lia García and Alexis Pauline Gumbs
Lia García (La Novia Sirena) will perform Becoming Mermaid, a performance that dwells upon water as an element of freedom and the power of the voice. The performance will be followed by a rumination and discussion by Alexis Pauline Gumbs, author of Undrowned: Black Feminist Lessons From Marine Mammals (AK Press, 2020). 

Becoming Mermaid responds to water as an element of freedom, femininity, and mystery. Where other forms of resistance coexist and affect human understanding, García's affective encounters, even on Zoom, dwell on the communicative power of the voice to touch participants in the performance. Instead of the caution against mermaids practiced by Greek intellectuals, Becoming Mermaid seduces with the voice of the indomitable being. This is the potency of a siren's voice, the forbidden song that confronts reason and reveals the importance of sensation and emotion to exploring Afrodiasporic voices, spirituality, and interspecies relationalities. 

Becoming Mermaid is the last installment of this year's Colloquium on Ethnicity and Diaspora speaker series, Care: As Keyword and Praxis.
Care: As Keyword and Praxis
Yearlong Series of Northwestern's Colloquium on Ethnicity and Diaspora (CED)
Click HERE for the ongoing list of events with scholars, artists, and practitioners examining care as analysis and practice across a variety of domains.
"As we continue to live amid the crises of global health and climate, as well as blatant and systemic inequality, CED's continued focus on Care allows us to interrogate and respond to the pressing conditions impacting the nation, our own campus communities, and the greater Chicago area." —CED
Co-sponsored by: Alice Kaplan Institute for the Humanities| African American Studies | American Studies | Anthropology | English | Center for African American History | Critical Theory Cluster| History | Philosophy | The Sexualities Project at Northwestern | Latino and Latina Studies Program | Department of Spanish and Portuguese 
 Past events - Spring 2022
Precarious Care:
institutional censorship of radical practices
April 5, 2022
2:00 - 4:15pm
TGS Commons: Seabury Hall, Room 140 (2122 Sheridan Road)
This workshop will explore material limitations imposed on archives amidst institutional censorship and civic resistance. Speakers will discuss material solutions for excavating histories that were doomed to obliteration as well as the production of generative archives that may guide current and future alliances between intellectual workers who face institutional censorship.
The workshop will be of interest to people whose work is politically oriented and who may foresee frictions with institutions with whom they desire to collaborate; researchers who are interested in supporting politically radical work by activists, intellectuals, and artists; and scholars who work with diminished and precarious archives.
Participants:
Maggie Taft, PhD
Art historian and Founding Director of Writing Space, a Chicago-based community writing center for artists and designers.
Meg Duguid
Artist and arts administrator. Recent curations include Where the Future Came From, which focused on the history of feminist artist-run spaces in Chicago from 1880 to 2018.
T Calvin
Poet and Community Engagement Archivist at the Black Metropolis Research Consortium (BMRC).
Moderator:
Ruslana Lichtzier, PhD Student, Department of Art History, and Cluster Fellow in Critical Theory and MENA

The Inevitable Defeat of Mister & Pete
(George Tillman, Jr., 2013, 108 min, DCP)

Film screening and talkback with Professors Miriam Petty and Nick Davis

April 28, 2022
6:00 pm
Block Museum of Art (40 Arts Circle Drive, Evanston)
Free and open to all. Click HERE to RSVP.
The Inevitable Defeat of Mister and Pete is a coming-of-age story about two boys of color living in poverty in New York City, directed by George Tillman Jr. (The Hate U Give). When Pete's mother goes missing and Mister's is arrested, the boys must attempt to survive on their own, evading law enforcement and the threat of social services in an effort to stay together.
Following the screening, Miriam Petty (Professor in Screen Cultures, Associate Dean for Academic Programs) and Nick Davis (Professor of English and Gender & Sexuality Studies) will join Golden M. Owens (PhD Candidate in Screen Cultures) for a post-screening discussion about the film, focusing specifically on how it represents and speaks to different ideas of care and what we can learn about carework from the narrative. View trailer here.
Co-presented by the Block Museum of Art and the Kaplan Humanities Institute.
Lynette Arnold (Anthropology, Univ. of Massachusetts Amherst)
Communicating Care: Transformative Language Work Across Borders, During the Pandemic, and in Mutual Aid Networks
May 16, 2020
3:00 - 4:30 pm CST
1810 Hinman Road, Evanston

Linguistic anthropologist Lynette Arnold will give an interdisciplinary lecture on how transnational Salvadoran families use everyday conversations to facilitate, enact, and signify cross-border care.
"This talk draws on insights gained from two decades of engagement with families living stretched between El Salvador and the United States who use communication to enact care at a distance across years of cross-border separation. Synthesizing theories at the intersection of medical and linguistic anthropology, I propose a communicative care framework that understands language as a practice which simultaneously facilitates, enacts, and signifies care. This approach produces new insights into the temporal dynamics and contradictory consequences of care, not only for transnational family life, but in many other settings, as the COVID-19 pandemic makes clear. Drawing on radical theories and practices of mutual aid, I ultimately suggest that communicative care constitutes a vital form of what Leith Mullings calls transformative work."
Co-presented by the Department of Anthropology, the Program in Latin American and Caribbean Studies, and the Kaplan Humanities Institute.
PAST EVENTS - Winter Quarter 2022

Masterclass with Artist Khalik Allah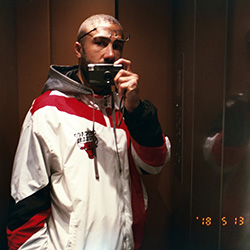 January 20, 2022
2:00 pm CST
Block Museum of Art (40 Arts Circle Drive, Evanston)
NOTE: Please check back for updates in case the event needs to go remote!
Khalik Allah frames his captivating work as "camera ministry" in order to emphasize how his intimate and probing approach to film and photography is an act of service to, and care for, those he portrays. From the concrete corners of 125th and Lexington in New York to his ancestral homeland of Jamaica, Allah reveals the strength, resilience, beauty, and love he finds amongst individuals and communities constrained by poverty, mental illness, and negative stereotypes. Never shying away for the cruel radiance of what is, Allah's lens nonetheless points us towards an alternative possibility of care.  
In this masterclass, Allah will share insights into his artistic practice and creative philosophy through excerpts from his latest work.
Presented with the generous support of the Hoffman Visiting Artist Series, the MFA in Documentary Media Program, the Department of Radio/Television/Film, the Block Museum of Art, and the Alice Kaplan Institute for the Humanities.

Photo of Khalik Allah ©Khalik Allah / Magnum Photos.
chicago torture Justice center -  digital visit and panel
Join us online for a panel discussion with survivors and the director of the Chicago Torture Justice Center.
This conversation is part of the Winter 2022 course, Race, Mental Heath, and Healing Justice, taught by Professor Patricia Nguyen, Asian American Studies. The course explores how constructions of race, class, gender, and sexuality are intimately connected to issues of mental health and chronic illness in a range of institutional and societal settings.
Professor Nguyen's course is a recipient of a course enhancement grant—designed to provide funds to support field research, guest lecturers, and performances—for curriculum related to the Kaplan Institute's 2021-2022 CARE Dialogue. 
Social ontologies of Oppression, Solidarity, and Care workshop
February 19-20, 2022
Registration details below

What agency and caring relationships can we forge under oppression? What relationship does alienation have to social identities of gender and race? What does it mean to care about, and be a comrade to those we do not know? Is intersectionality a claim about the structure of the social world or a methodological perspective?
This workshop will bring together a set of eight junior scholars from across the U.S. to present articles and book chapters in progress on the ontology of oppression, solidarity, care, intersectionality, and alienation from a broadly humanistic perspective. This workshop will emphasize philosophical, historical, and interdisciplinary approaches to illuminating urgent political issues concerning race, gender, class, solidarity, and collective emancipation.
This is a hybrid, pre-read workshop. Registration is required.
To register and get access to the papers, visit https://forms.gle/sb64R9XKxJyCmd736
DATES
Friday, Feb. 18, 1:00 pm - 5:00 pm CST
Saturday, Feb. 19, 10:00 am. - 5:00 pm CST

In-person Location: UIC Institute for the Humanities, University of Illinois Chicago, Stevenson Hall, lower level (701 S. Morgan Street, Chicago).
Virtual: Register for the Zoom link at https://forms.gle/sb64R9XKxJyCmd736
Event conveners
Laura Martin (Northwestern University), Annette Martín (University of Illinois at Chicago)
Event sponsors: The Department of Philosophy, the Department of Political Science, and the Kaplan Humanities Institute at Northwestern; The Department of Philosophy, Institute for the Humanities, and Institute for Research on Race and Public Policy at University of Illinois Chicago (UIC); and the International Social Ontology Society.
Schedule
FRIDAY, FEB 18
1:00pm - Megan Hyska (Northwestern), "Toward a Theory of Social Organizing"
Commentator: Tyler Zimmer (University of Chicago) 
2:15pm - Daniel Brinkerhoff Young (NYU), "Fanon on Racial Alienation from Oneself and Others"
Commentator: Arwa Awan (University of Chicago)
3:30pm - Yarran Hominh (Dartmouth), "Oppression, Domination, and the Structure of Graded Hierarchy"
Commentator: Taylor Rogers (Northwestern)
SATURDAY, FEB 19
10:00am - Eric Bayruns García (CSUSB), "Comprehensive Speech Acts, Understanding and Ignorance of Racial Injustice"
Commentator: Maria Meja (UIC)
11:15am - Annette Martín (UIC), "Connecting Levels of Analysis Within Intersectionality"
Commentator: Rhiannon Auriemma (Northwestern)
LUNCH BREAK
1:30pm - César Cabezas (Temple) "Racism as an Explanatory Concept: The Anti-Racist Project of Diagnosing and Overcoming Racial Domination"
Commentator: Paul Cato (University of Chicago)
2:45pm - Laura Martin (Northwestern) "An Expressivist View of Women's Autonomy"
Commentator: Hannah Martens (University of Illinois at Chicago)
4:00pm - Philip Yaure (Virginia Tech) "'This Multiform Composite Nationality': Emancipation and Empire in Frederick Douglass's Pan-American Republic"
Commentator: John Proios (University of Chicago) 
Haile Gerima's WILMINGTON 10--USA 10,000 (1979)
February 18, 2022
7:00 pm CST
Block Museum of Art (40 Arts Circle Drive, Evanston)
Click here for more info & to RSVP
In 1971, ten civil rights activists, including 24-year-old Rev. Benjamin Chavis of the United Church of Christ's Commission on Racial Justice, were wrongfully convicted of arson in Wilmington, North Carolina. Through interviews with the parents of the Wilmington 10 (as well as political prisoner Assata Shakur, filmed just before her escape from the Clinton Correctional Facility), groundbreaking Ethiopian filmmaker Haile Gerima (Bush Mama, Sankofa) exposes the human toll of injustice. Nearly unseen for decades, Wilmington 10 -- USA 10,000 will screen at the Block in a new restoration from the Academy Film Archive.
With an introduction and discussion by Allyson Nadia Field, Associate Professor, Department of Cinema and Media Studies at University of Chicago, author of Uplift Cinema: The Emergence of African American Film & The Possibility of Black Modernity (Duke University Press, 2015), co-editor of L.A. Rebellion: Creating a New Black Cinema (University of California Press, 2015). Photo: Still from the unrestored version of WILMINGTON 10 -- USA 10,000

Presented by Block Museum of Art with support from the Kaplan Humanities Institute.
FLESH TO SPIRIT: MATERIALITY AND ABSTRACTION IN BLACK EXPERIMENTAL FILM
With filmmakers Paige Taul and Christopher Harris
March 4, 2022
7:00 pm CST
Block Museum of Art (40 Arts Circle Drive, Evanston)
Click here for more info and to RSVP.
"Flesh to Spirit" explores the manifold ways that film artists have embraced abstract techniques and explored the materiality of film and video to represent Black experience, from the 1960s to the present. Charting connections between several generations of moving-image makers, "Flesh to Spirit" will showcase brilliant works in 16mm and 35mm film, analog and digital video. From Paige Taul's After DeCarava, which treats photographic abstraction as a form of care, to Ayanna Dozier's Maman Brigitte, which connects Black women's bodily autonomy to the contingency and texture of analog film, the films in "Flesh to Spirit" propose alternative potentialities in film and life alike.
Following the screening, filmmakers
Paige Taul
and
Christopher Harris
will appear for a discussion and Q&A. Image credit: WATER RITUAL #1: AN URBAN RITE OF PURIFICATION (dir Barbara McCullough, 1979), courtesy of Third World Newsreel.
Presented by Block Museum of Art with support from the Kaplan Humanities Institute.
Cultivating Care in academic culture
Digital Apothecary — Live Podcast Recording

March 7, 2022
2:30 - 3:30 CST
Via Zoom: https://bit.ly/CultivateCare
ASL provided.
This event will be a live recording of the first Digital Apothecary podcast episode featuring three scholar-activists in critical theory and gender and disability studies: Akemi Nishida, Pidgeon Pagonis, and Leah Lakshmi Piepzna-Samarasinha. In discussing Cultivating Care in Academic Culture, we'll explore the intersection of care work, activism, and social justice, as well as questions such as: What are some of the biggest lessons you have learned from your work and advocacy? When do self care and community care come into conflict?

Digital Apothecary is the official podcast of Dr. Moya Bailey's Digital Apothecary Lab, which expands on how people use digital tools to care for one another and pursue social justice.
Presented with support from Northwestern's Center for Bioethics and Medical Humanities and the Kaplan Humanities Institute.
Back to top