P. Gabrielle Foreman, Founding Director of Colored Conventions Project, to visit Northwestern May 2-4, 2022
April 7, 2022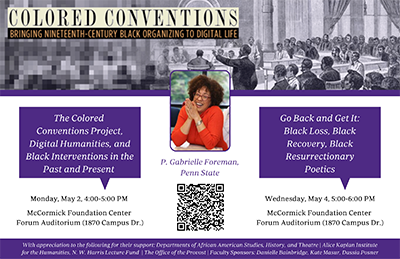 The Kaplan Humanities Institute is delighted to join as a co-host in welcoming P. Gabrielle Foreman, Professor of English, African American Studies, and History at Penn State, for two events in May of 2022:
Professor P. Gabrielle Foreman in conversation with Professor Danielle Bainbridge, Northwestern Department of Theatre
Monday, May 2, 4:00-5:00pm
McCormick Foundation Center Forum Auditorium, 1870 Campus Drive
 
The conversation will center on the pathbreaking and internationally renowned Colored Conventions Project (CCP). Known for its interventions in digital humanities and in community and pipeline building, CCP is dedicated to bringing seven decades-long of early nineteenth-century Black organizing to multiple audiences through online exhibits, digital records, and teaching guides.
Public Lecture by Professor P. Gabrielle Foreman
Wednesday, May 4, 5:00-6:00pm
McCormick Foundation Center Forum Auditorium, 1870 Campus Drive
 
Digital archives, like Black poetry that reaches back to the past, structure neighborhoods of meaning that bring home lost records and loss records to those who recognize them. In doing so, they trace how cultural descendants go back to lost sources, using innovative methods and resurrectionary poetics to sit in conversation with Black historical hauntings and to make space for–and to make peace for–our living dead.
About P. Gabrielle Foreman
Professor Foreman is a poet's daughter and interdisciplinary scholar raised on the South Side of Chicago and Venice Beach, California. She is the founding faculty director of the award-winning Colored Conventions Project, housed at Penn State's Center for Digital Black Research/#DigBlk, which she co-launched and co-directs with Shirley Moody-Turner. Gabrielle is known for her long-standing commitments to working in collectives and to institution, community, and pipeline building. She has also worked for a decade with Dr. Lynnette Overby and poet Glenis Remond on performances based on her research that bring Black history to the stage. Foreman is author of five books and editions, which include most recently, The Colored Conventions Movement: Black Organizing in the Nineteenth Century (2021), and the forthcoming Praise Songs for Dave the Potter: Art and Poetry for David Drake (2022).

Foreman's visit is co-presented by the Departments of African American Studies, History, and Theatre; Alice Kaplan Institute for the Humanities; N. W. Harris Lecture Fund; The Office of the Provost; Faculty Sponsors: Danielle Bainbridge (Theatre), Kate Masur (History), and Dassia Posner (Theatre and Slavic Languages and Literatures).
Related exhibit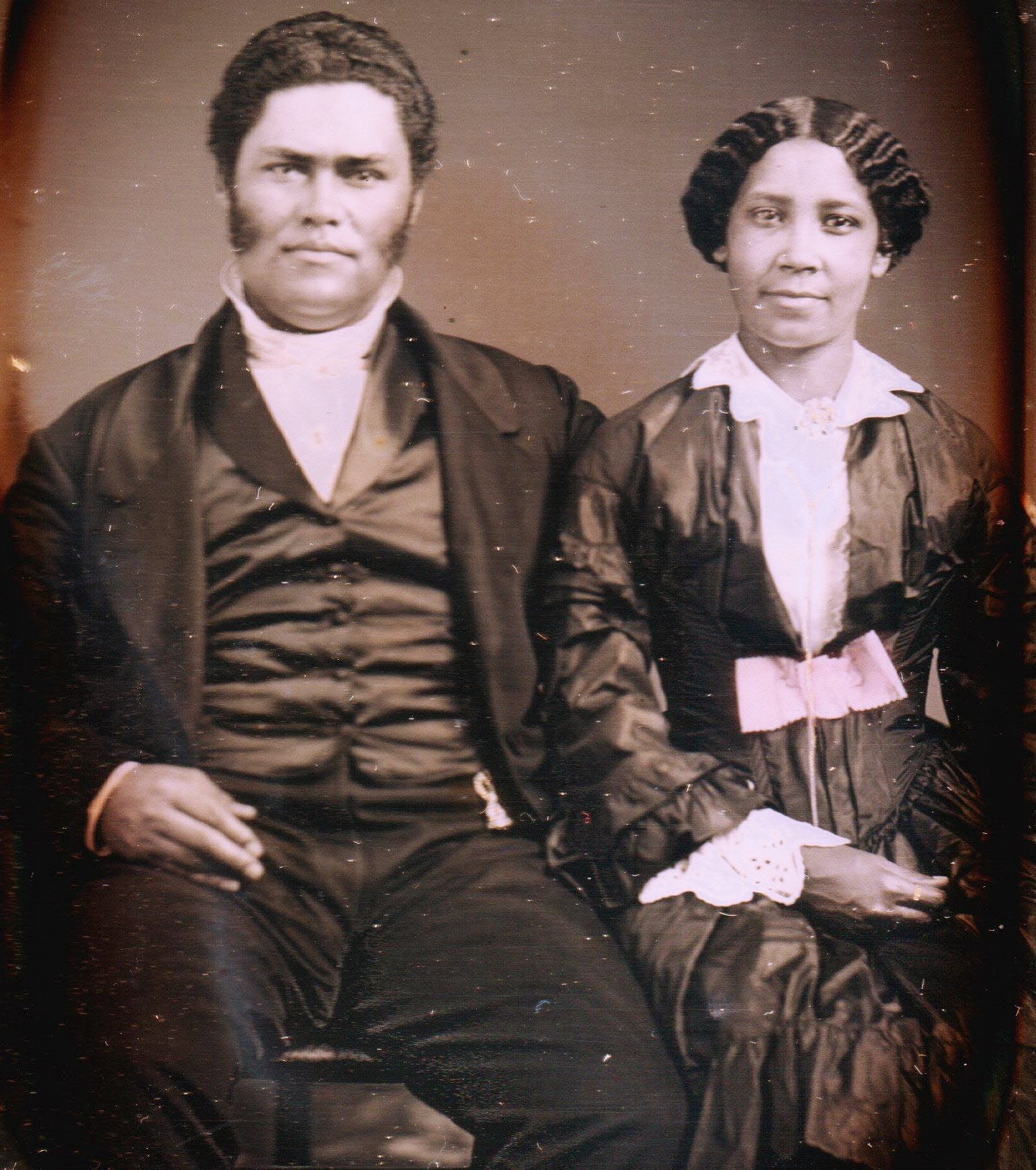 Black Organizing in Pre-Civil War Illinois: Creating Community, Demanding Justice
On March 1, Professor Kate Masur (History) launched Black Organizing in Pre-Civil War Illinois: Creating Community, Demanding Justice, a web exhibit that is housed within the Colored Conventions Project.

Produced over two years by a team of Northwestern students, staff, and faculty, the web exhibit charts the history of African American life and activism in Illinois in the 1840s and 1850s. It describes how Black settlers moved here and established communities despite the racist "black laws" of Illinois that were designed to marginalize and exclude them. Early Black organizing culminated in the first statewide Black political convention, which met in Chicago in 1853. The exhibit offers biographies of 25 individuals whose stories reveal the diversity of Black life in the Midwest and explains how the convention came into existence and what it accomplished.