Walter Kitundu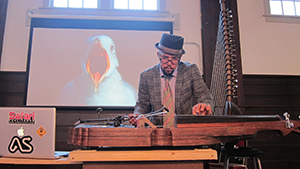 In residence Winter and Spring 2015

Kitundu's residency was co-sponsored by Art Theory and Practice,  Radio/Television/Film, and the Kaplan Humanities Institute.
Walter Kitundu is a sound artist and instrument builder, performer, designer, and installation artist. He is the inventor of a family of Phonoharps, multi-stringed instruments made from record players that rely on the turntable's sensitivity to vibration. As an artist he has created hand built record players powered by the wind and rain, fire and earthquakes, birds, light, and the force of ocean waves. He received a MacArthur Fellowship for his work in this field.
Kitundu has received public art commissions, residencies, been a visiting professor, and lectured on topics from the creative process to bird behavior. He has performed and been in residence at art centers and science museums internationally. He has collaborated with the renowned Kronos Quartet, bassist Meshell Ndegeocello, the electronic music duo Matmos, and the legendary Marshall Allen - in venues from Carnegie Hall to a high school library in Egilstaadir, Iceland. Kitundu is currently engaged in developing public art works, building musical instruments, and exploring aesthetic phenomena that inhabit the space between natural and built environments.
While in residence, Walter created an installation that produced music from the bird landings outside his studio window; taught the course "Exploring Sound and Natural Phenomena" in the Departments of Art Theory and Practice and Radio/Television/Film; and gave a live performance to a packed house.
Back to top