Kaplan Scholars
In a world dominated by technological fixes, quantitative models, and the rhetoric of "problem-solving," the Kaplan Humanities Scholars Program challenges first-year students to formulate sophisticated questions for which there are no simple or empirical answers. What distinguishes the human? Can fiction be a form of knowing? Is imagination structured like a language? What is the role of the arts in an ideal society? These are deep and abiding questions that have attracted some of the world's greatest and most rigorous thinkers, from Homer to Freud, from Shakespeare to Hannah Arendt. As such, they constitute the special domain of the Humanities, with its unique methods and traditions of deliberation, analysis, and judgment.
An exciting and intensive two-course program for first-year students, dedicated to the idea that the liberal arts form the cornerstone of university education as well as of civic responsibility, the Kaplan Humanities Scholars Program seeks the most active and interrogating minds of each year's incoming first-year class in Weinberg College.
Watch a video where past Kaplan Scholars talk about their experience in the Kaplan Humanities Scholars Program: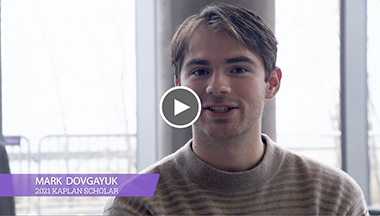 Read more about the program. For more information, contact Tom Burke.