HWW Career Diversity Workshop
HWW is hosting a Virtual Info Session for the Humanities Without Walls Career Diversity Workshop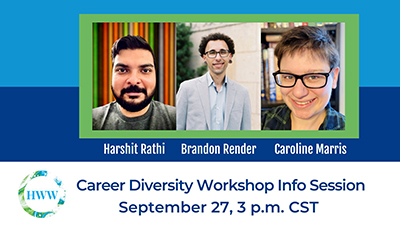 September 27, 2022
3:00 pm CST
Sign up for the session here: https://bit.ly/3TWaP6e

This event will feature three workshop alum and provide information about the HWW Career Diversity Workshop in advance of the November application deadline.
---
2023 career diversity Workshop
The Humanities Without Walls (HWW) Career Diversity Summer Workshop is a two-week, immersive career diversity experience for 20 PhD students in the humanities. The workshop provides tools, values exercises, and space for individuals to imagine their professional futures. The University of Minnesota's College of Liberal Arts and Sciences will serve as host for the summer 2023 workshop.
Through a series of workshops, talks, informational interviews, and site visits, participants will learn how to imagine possible futures and leverage their skills and humanities training for careers in the private sector, the nonprofit world, arts administration, public media, and many other fields.
The workshop will take place in Summer 2023—from July 17 through July 28, 2023.  Students must be in residence in Minneapolis for the duration of the workshop and are expected to attend all workshop activities. Lodging and some meals will be provided; fellowship awards ($4,000) are intended to cover transportation costs to/from and around Minneapolis, meals, and other expenses.
Full details about the goals and format of the workshop can be found on the Career Diversity Workshop page on HWW's website.
Eligibility
HWW especially encourages students from backgrounds historically underrepresented in higher education to apply.
All applicants must be enrolled full-time in a doctoral program in a humanities or humanistic social science discipline at a university within the United States. Applicants may be at any stage of their doctoral work, but they cannot have received the doctoral degree at the time of the workshop.
International students are eligible to apply but must confirm their registration and eligibility status at their home universities. HWW is not responsible for issuing visa paperwork or advising on taxation policies. Applicants are encouraged to work with their humanities institute director for additional information.
Eligible doctoral students must be nominated for this workshop by their home institution, and only one nomination may be made to HWW by each university; thus, one candidate will be chosen from the Northwestern applicants and nominated to Humanities Without Walls.
To be considered, Northwestern doctoral students must submit their applications to the Kaplan Humanities Institute via an online portal by November 1, 2022 (11:59pm).
Workshop details
Full workshop details and FAQs are on the HWW website: https://www.humanitieswithoutwalls.illinois.edu/career-diversity/career-diversity-workshop-call-applications
Application deadline
November 1, 2022 (Tues.) - 11:59pm
To apply (Northwestern students)
 For application instructions and the portal link, please visit: https://humanities.northwestern.edu/public-humanities/humanities-without-walls1/summer-career-diversity-workshop/application-hww-career-diversity-workshop.html